Partner organisations
Tan-kids Foundation cooperates with registered, local non-profit organizations in Tanzania. These organizations offer aid and education to the poorest and most underprivileged children.
We mostly collaborate intensively with Share to Grow Trust – Dar es Salaam
Share to Grow Trust– Dar es Salaam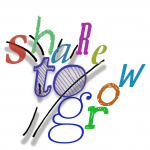 Share to Grow has a special vision towards education and child development. The team of Share to Grow consists of professionals who work with passion and expertise for additional education, skills training and talent development.
The initiator of Share to Grow Trust is Mr. Wein Peter Nyasi. He is a certified life skills trainer and has experience in child protection, child-friendly schools and the training of social-emotional skills (for children and youth). In 2015, cooperation with Tan-kids was launched with the provision of joint social skills training at schools.
Share to Grow Trust has opened an outdoor children center where children can read books and get homework assistance. They organize clubs and lessons, like art class,  English lessons and computer lessons. Singing and music are also part of the mission in the children's center. Occasionally, the provision of trust and a listening ear has become an important added value in the lives of children and young people.In the future, Share to Grow wants to build a study center. In this so-called Learning Center a library will be located and a varied range of lessons and training will be given.
Together with Share to Grow, in 2017, we developed a help program for children and families. The name of this program is Family Based Child Care (FBCC). With this program we want to provide basic needs for children, while we, at the same time empower their family and help them further on their way to self sustainability. This program is in the hands of the professional social workers from Share to Grow Trust and is performed in a close cooperation with us.
In 2017 there are 32 children and 16 families who participate in this program
A description of this program can be found under the button "approach".
More info on: https://www.facebook.com/Share-to-Grow-1606448583018187/?fref=ts
Are you interested to receive a project plan? Or do you want more information about about our projects?
Call or sent an email to Annette Klijnsma: 06-37289585 or mail annette@tan-kids.com